Whether it be because they're undiagnosed or because their doctor just prescribed pain medication for the symptoms, many people with sciatica fail to realize that a physical therapist can actually help relieve the discomfort, pain, and weakness in their leg with manual therapy, therapeutic exercises and education.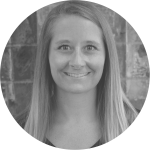 BY ASHLEY HELLER, PT, MPT, RAUSCH PHYSICAL THERAPY



If you suffer from sciatica, don't just manage the symptoms with products or pills.
Call (949) 276-5401 to schedule an evaluation*. We'll determine the specific cause of YOUR sciatic symptoms and design a specific treatment plan that addresses the root of the problem for long-term relief.
*You do not need a doctor's referral to be treated by a physical therapist.
Sciatica
is a general term used to describe painful sensations and/or weakness down the back of the leg–where the sciatic nerve runs–due to nerve irritation or compression. Sciatica can radiate down the buttock or back of the thigh, and it may even travel below the knee into the calf and foot.
The
sciatic nerve
is actually a group of nerves that exit at the lumbar spine; these nerves are responsible for supplying the legs with both sensory and motor function. People with sciatica may experience muscle weakness or uncomfortable sensations (e.g. pain, numbness, tingling or burning) down their leg.
Where and how your symptoms appear will vary depending on the specific nerve root affected, as well as the underlying pathology and its severity.

Common causes of sciatica
While there are several factors that can cause nerve irritation or compression, the most common pathologies, or "root of the problem," are disc injuries.
A disc bulge happens when there's increased pressure on the disc, which causes it to bulge to one side. Sciatica can develop when this bulge compresses one of the nerves going down into the sciatic nerve. Disc bulges can develop from simple wear-and-tear as we age, which can weaken the outer portion of the disc. You can visualize a disc bulge by thinking of a water balloon being squeezed.
A disc herniation occurs when a disc bulge ruptures, causing the inner nucleus of the disc to extrude (think toothpaste being squeezed out of the tube.) Both disc bulges and herniations may result in sciatic symptoms because they increase nerve irritation or compression.
Degenerative changes in the spine, such as degeneration degenerative disc (DDD) and arthritis of the facet joints, may cause nerve root compression leading to sciatica.
A condition known as Spondylolisthesis refers to a vertebral defect that results in a fracture. Vertebral defects may fracture under heavy or repetitive loads of the spine, which is commonly seen with teenagers starting to lift weight or in gymnasts. This type of fracture may result in spinal instability and nerve compression.

How your physical therapist can relieve sciatica symptoms

Many people with sciatica have no idea that a physical therapist can identify the specific cause of their sciatica and get rid of those uncomfortable symptoms with great manual therapy, targeted therapeutic exercises and education.

The discomfort, pain or weakness usually radiates down the buttock or back of the thigh, but it can even travel below the knee into the calf and foot. Peripheralization refers to the symptoms moving further down the leg away from the spine (bad), whereas centralization refers to symptoms moving out of the leg towards the spine (better.) The goal in physical therapy is to centralize sciatic symptoms to decrease pain in the leg.

Physical therapists have a number of manual therapy techniques in their toolbox to help achieve centralization, such as:

Increasing flexibility without stretching out the nerve
Decreasing pressure in the disc to alleviate nerve irritation
Decrease stiffness between the vertebrae to improve mobility and decrease movement restriction
Increase lumbopelvic stability to help stabilize the spine
Educate on proper lifting mechanics to reduce risk of traumatic or "wear-and-tear" injury

Conclusion

If you suffer from sciatica, don't just manage the symptoms with products or pills. Call us right now at (949) 276-5401 to schedule an evaluation*; we'll determine the specific cause of YOUR sciatic symptoms and design a specific treatment plan that addresses the root of the problem for long-term relief. With a few weeks of manual therapy and therapeutic exercise, we CAN relieve your pain, discomfort or weakness in your back or leg so you can get back to doing life pain-free.


*You do not need a doctor's referral to be treated by a physical therapist.

---

Ashley Heller, MPT is a licensed physical therapist at Rausch Physical Therapy & Sports Performance. She received her Masters of Physical Therapy degree at California State University, Long Beach and is passionate about working with patients with shoulder, knee and ankle injuries. With background in orthopedic-related injuries and post-operative rehabilitation, Ashley believes that the combination of manual therapy and personalized therapeutic exercise program is vital to recovery. Known as the Water Sports PT, Ashley says her goal is to help her patients better understand their injuries and the plan for their road to recovery.

Click to learn more about Ashley and our other physical therapists »