Client Spotlight: John Elliott
December 30, 2016 4:27 am / Category: Client Spotlight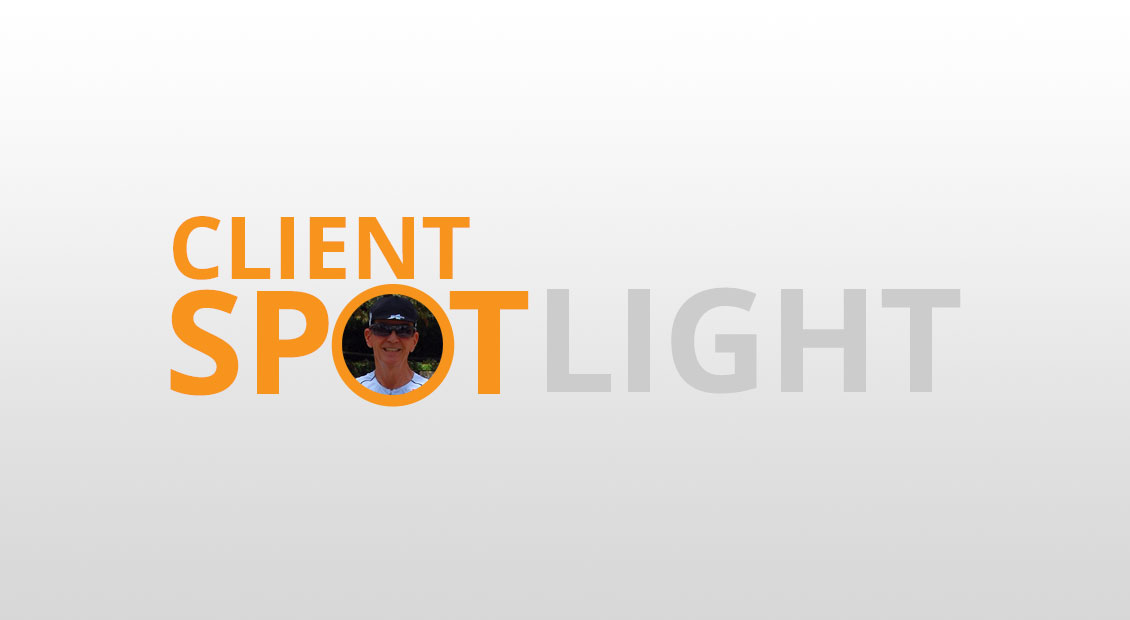 At 72 years old with progressive heart and lung conditions, John Elliott may not be able to speak loudly or for a long time, but he has a lot to say. As one of our long-time patients, John is a staple around the clinic, and his determination and attitude continues to inspire our staff to get involved and never give up.
John Elliott first came to Rausch Physical Therapy & Sports Performance nearly six years ago, when a car barreling down the wrong side of the road hit him head-on as he was waiting at a stop sign on his bicycle. John suffered shoulder, leg, ankle, and neck injuries, which meant a good deal of intensive physical therapy. According to John, he'd been to physical therapy at a number of facilities over 30 years, but the approach and atmosphere at Rausch PT took him by surprise, especially its focus on sports recovery and performance.
"Since being treated [at Rausch PT], I can't imagine ever again being treated by a PT who has not participated in sports and experienced the strains and issues that attend just about every sport. Sports injuries are not 'if,' they are 'when,' and I feel that a PT who has experienced these issues has a better understanding than someone who just got it from a book or as feedback from their patients."

Ride On, John
John has been a cyclist his entire life, a fact that his cardiologist now says is the major reason why he's survived his heart problems. Ironically, 25 years ago his heart and lung issues nearly forced him off the bike for good. John is a retired Nuclear Health Physicist, and when an industrial accident in an adjacent laboratory facility impacted his health enough to force me into a disability retirement, it also drastically impacted his life-long road bike activities when balance became a major issue.
Apparently 50 years of riding 2,000 to 4,000 miles a year was too hard to abandon, so John researched his alternatives and eventually purchased a recumbent racing trike. It was during his daily trike rides when John met two Challenged Athletes, also riding adaptive cycles, who encouraged John to re-enter competitive events through Challenged Athletes Foundation as a relay triathlete.
So, at 65 years old, John entered his first event, and since then (between yearly hospitalizations) John has been able to complete several races each year, from sprint tri events to an Ironman 70.3 event. However, his most treasured event is the San Diego Triathlon Challenge benefiting CAF.

Challenge Accepted
"CAF and the mentoring program are major inspirational forces in my life, and have become an inseparable part of cycling for me," John said. "Working with athletes facing many different physical challenges always reaffirms my belief that the easy roads only lead downhill; you owe yourself the climb!"
It was John who introduced Rausch PT to the
Challenged Athletes Foundation
in 2013. The residual pain from his car accident injuries prevent John from running or swimming, and so he always enter triathlons as a relay team member. In 2013, John wanted to have his support team behind him, so he approached a few Rausch PT staff/athletes to join his relay team, and ever since then John has been a driving force behind our clinic's involvement in CAF and SDTC. This year alone, Team Rausch PT raised more than $10,000 for CAF… thanks to John's encouragement to never give up.
John nearly didn't get to race this year after undergoing bypass surgery in June. With only four months until his 44 mile bike race at SDTC, John's surgeon said it wasn't going to happen, that it would at least a year to recover from the surgery. In fact, John wasn't even allowed to walk outside until mid-July, or get on a bike until August for his first 2-mile "baby steps" ride. Nevertheless, John says that his years of physical therapy at Rausch PT, learning how to re-train his body after his 40 heart hospitalizations to-date, really paid off. His physical therapist, Dustin Hancock, coordinated with John's cardiac rehab team to modify John's PT treatment to the realities of "being held together with wire and glue," as John puts it. Dustin also helped coach John on how to work in 1,200+ miles of progressively increasing distance and speed cycling in just two shorts months before SDTC.
"The best part for me is always the actual event–the fun, companionship, and inspiration of all my teammates and all the Challenged Athletes. That, and the satisfaction of having made it back to the starting line one more time!"
Never Give Up
John says the hardest part of his recovery journey is the progressive nature of his heart and lung issues, along with aging. Each trip to the hospital means weeks of conditioning before he's cleared for cycling again, which means keeping a training schedule can be difficult. Still, John says he's confident that with the clinic atmosphere, the skill of the PTs and helpfulness of the PT aides, and the fact that the staff at Rausch PT listen to what you are saying about your injury and progress will keep him in the saddle for as long as possible.
"I don't plan on stopping my riding, so I probably won't ever stop needing PT at Rausch."