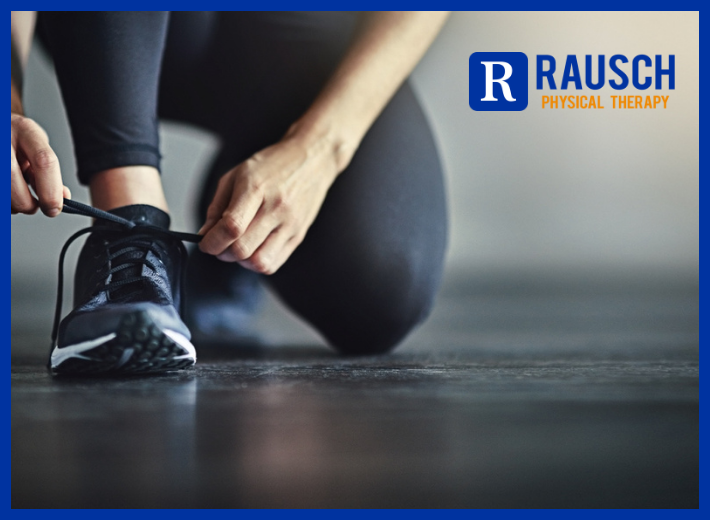 If living a happier and healthier life in 2022 was one of your New Year's resolutions, this article is for you! Dr. Danielle Fleming has gathered life-hacks shared by the people from the healthiest areas of the world.
By: Dr. Danielle Fleming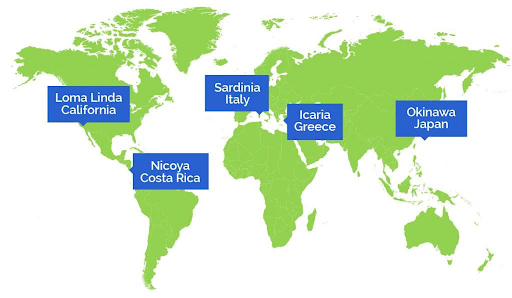 History of Blue Zones – Blue Zones
Have you heard people talk about Blue Zone populations? Wondering what and where they are, and what makes them so special?! I have answers!
Blue Zones is a trademarked term – dubbed by Dan Buettner – identifying world regions with the longest-living, healthiest populations. These are the populations with the most centenarians. People here tend to live happier, more fulfilled lives, too. Yay! 
There are five Blue Zones around the world: Okinawa, Japan; Loma Linda, California, USA; Sardinia, Italy; Icaria, Greece; and Nicoya, Costa Rica. Dan and his team found that people in these areas share several common lifestyle factors that contribute to their longevity and health. 
These 9 common factors are:
Moving naturally and often 

Knowing their purpose in life

"Down shifting" i.e. de-stressing activities 

80% rule (stop eating at 80% full and don't eat late at night)

Plant-based diets with minimal meat

Light-moderate wine drinking frequently (but not heavy binging)

Belonging to any kind of faith-based community

Prioritizing family ties

Being surrounded by the right people that promote healthy lifestyles
I'm sure many of us want to live long, thriving lives in every aspect (thriving vs surviving). Drawing inspiration from the Blue Zone populations could help us do that, so knowing and implementing these factors is a first step! 
Think about which ones you need more of in your life, and actions to take based on that.
Like for me, I am working on surrounding myself (and BEING ONE) with people that promote the lifestyle and goals I am looking for (#9) so I can #levelup and continue to grow.
Additionally, The Blue Zones organization has lead to further research and movements related to promoting health and longevity. For example, my friends gifted me The Blue Zones Kitchen cookbook (I need to utilize it more!), which contains all kinds of healthy recipes based off of the research around what people in the Blue Zones typically eat. My friends made me the Minestrone Soup from Sardinia (enjoyed with red wine) and…BAM!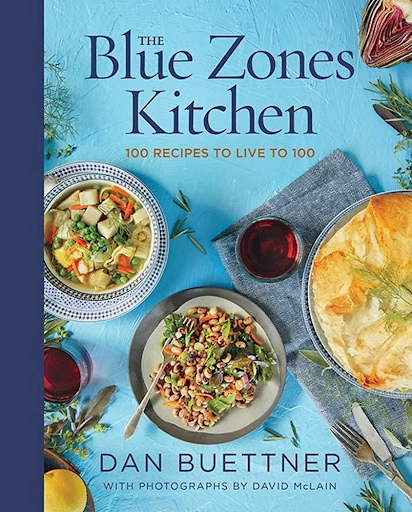 Let's point out some of these recipes – you may find some new faves or get the book yourself for more!
Sardinia:
Minestrone 3 Ways – Minestrone with Fennel and Wild Garlic




Beans, chickpeas, fava beans, lentils, potatoes, onion, celery, garlic, fennel, pasta, chard, squash, tomatoes

Cabbage and Sun-Dried Tomato Saute




Sun-dried tomatoes, cabbage, green onions, sweet onion, EVOO

Spaghetti with Walnut Pesto




Walnuts, spaghetti, garlic, parsley, EVOO, salt

Sardinian-Style Pizza




Garlic, EVOO, tomatoes, basil, veggie broth, pane carasau bread (or pitas), optional pecorino cheese
Okinawa: 
Sweet and Spicy Carrot Medley




Carrots, onion, sesame oil, dashi or veggie broth, chili paste or red pepper flakes, mirin

Sweet Potato and Onion Hash




White sweet potatoes, onion, carrots, oil, dashi broth, scallions, soy sauce

Iced Banapple Tumeric Smoothie


Banana, apple, turmeric, soy milk, ice

Savory Rice Porridge




White rice, miso, dark green leafy greens, dashi broth
Nicoya:
Veggie Hash with Corn and Onions




Chayote squash, corn, red or yellow peppers, onion, cilantro, celery, garlic, cilantro coyote, achiote paste

Fried Green Plantains




Plantains, veggie oil

Bean Soup Three Ways – Black Bean and Potato Soup


Chayote squash, carrot, potatoes, culantro coyote, onion, garlic, veggie stock, black beans

Horchata:




Rice, water, cinnamon, nutmeg, sugar
Icaria:
Winter Potato Salad




Potatoes, dill, EVOO, red wine vinegar, arugula, spinach, onion, romaine, radish

Hummus With Parsley




Chickpeas, garlic, EVOO, red wine vinegar, parsley

Honey Cookies




Orange juice, honey, lemon, vanilla, cognac/rum, EVOO, flour, cloves, cinnamon, nutmeg

Tomato Pasta Soup




Veggie broth, tomato, tomato sauce, EVOO, orzo/pasta
Loma Linda:
Longevity Smoothie Bowl




Almond milk, banana, blue/blackberries, kale, spinach, almond butter, flax, turmeric, cinnamon – toppings!

Quick Cornbread




Flax, cornmeal, flour, soy milk, applesauce, oil, maple syrup, vanilla, corn

Veggie No-Meat Balls




Chickpeas, garlic, bread crumbs, oregano, basil, spices

Coconut Chia Pudding




Coconut cream, coconut milk, agave, lemon zest, chia seeds
Which ones sound good to you?! I know healthy cookies, pizza, and horchata sound YUMMY to me! Share with your buddies and get cooking!
Disclaimer — All the information that you find on our blogs and social media pages is for informational purposes only and is not intended to be used as your personal professional diagnosis, or treatment. Come and see us for your excellent, personalized care! https://rauschpt.net/
---
Reference:
History of Blue Zones – Blue Zones
The Blue Zones Kitchen: 100 Recipes to Live to 100 – Dan Buettner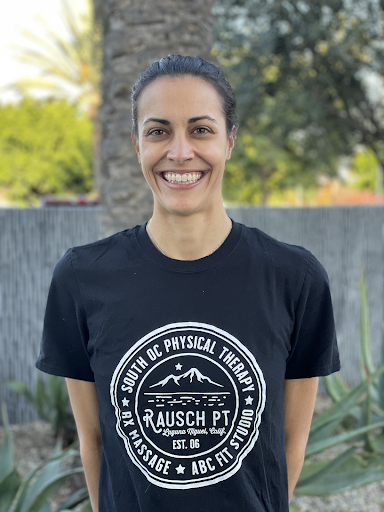 Dr. Danielle Fleming, PT, DPT, CSCS, Pn1
daniellef@rauschpt.net 
Dr. Danielle, our "Wellness PT" is a certified nutrition and wellness coach, and promotes a holistic approach to health. Let's talk! We are here to help. Give us a call for a complimentary consultation. We would love to meet you.
Did you know there's no prescription needed from a doctor to see us – but we will communicate your progress and treatment to your doctor if you'd like us too! 
(949) 276-5401