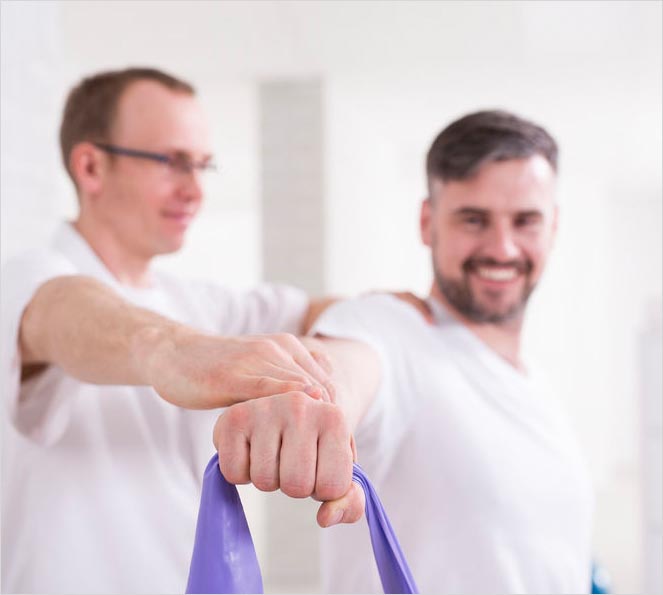 Choosing Pack Physical Therapy
Physical therapy is one of the best healthcare choices you can make. It's a safe, affordable and effective way to manage your pain while providing you with long-lasting health benefits.
Why Our Treatment Works
Our physical therapists are experts in motion. Our clinicians undergo advanced training and pursue certifications, which give them the experience and education to provide you with the highest standard of care. You can be confident that their assessment and recommended treatment will help you recover, protect against future injury and allow you to reach your health goals.
Another great reason to choose our physical therapy is to avoid procedures like surgery or extensive imaging tests — including X-rays, MRIs and CT scans. This can save you money throughout your treatment.
A 2015 study proved initial treatment costs were 50% lower when patients were referred to physical therapy instead of an advanced imaging referral from their primary care consultation. These savings do add up. Over time, using physical therapy first resulted in 72% lower costs within the first year of a patient seeking care.
Your Personalized Treatment Plan
Our experts listen, set goals and create a treatment plan centered around your specific injury or pain to optimize your health. We remain focused on your progress — from your first appointment until your treatment ends. But don't just take our word for it – our patients regularly recommend us to their family and friends.
We also leverage data and the latest techniques to create effective and efficient treatment options. We offer a wide range of specialized services to relieve your symptoms.
Pain management and rehabilitation
Education about your specific condition and how to minimize the risk of future injury
Exercises to improve range of motion and flexibility
Exercises to strengthen muscles and to improve coordination, balance, and endurance
A customized home exercise program
Lower healthcare costs than other treatment options, like surgery, imaging tests or medication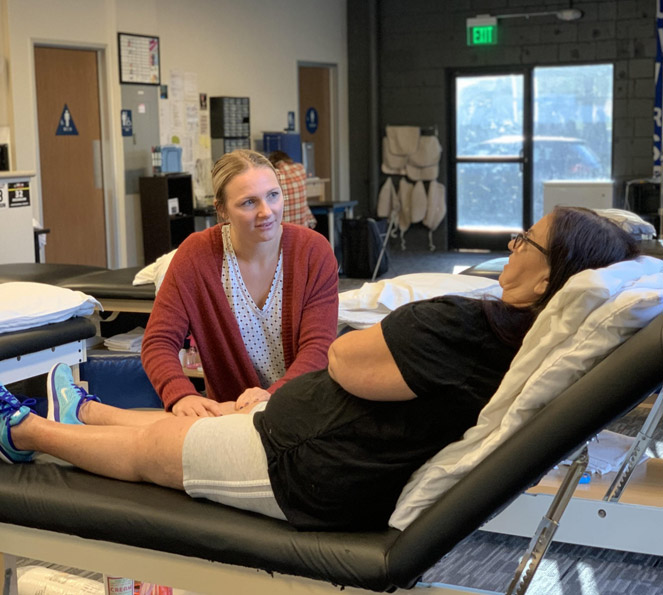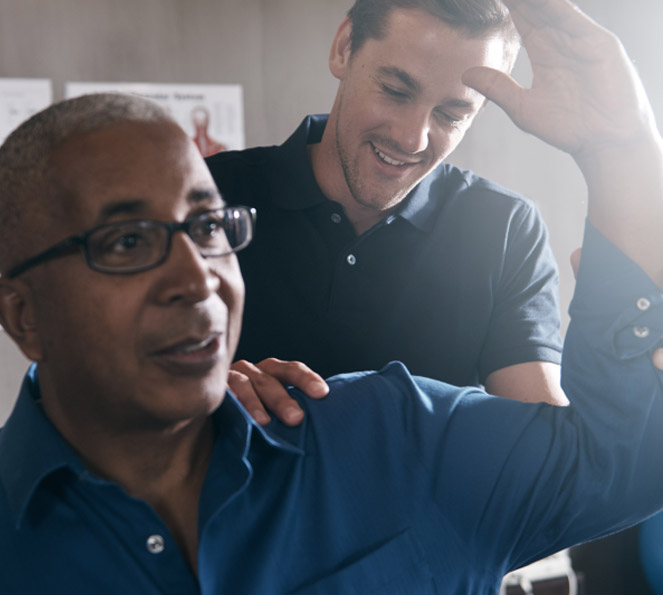 You'll Find Relief With Physical Therapy
Our physical therapists are trained to treat a variety of conditions, including:
Acute and chronic pain
Arthritis pain
Ankle and foot injuries
Back and neck pain
Dizziness and balance deficits
Hand trauma and upper extremity injuries
Hip and knee injuries
Joint replacement
Leg injuries and knee pain
Muscle strains and sprains
Orthopedic injuries
Overuse injuries
Personal and auto injuries
Pain related to women's health and pregnancy
Pre- and post-surgical conditions
Repetitive stress injuries
Shoulder and elbow injuries
Sports and performance injuries
Work-related injuries
If you don't see your condition, that doesn't mean we don't treat it!
Scheduling an appointment is easy, convenient and flexible.
We'll schedule you fast, sometimes the same or next day, but always within 24 to 48 hours of requesting your first appointment.
Rausch teams in action & success stories!
Serving Orange County
At Rausch PT, everyone from our friendly front office staff to our dedicated aides is here to cheer you on and help you achieve your goals. We strive to give you the best experience possible every time you come see us, which is why your personal Rausch physical therapist will be by your side throughout your entire treatment.
Testimonials
Best place to go for physical therapy, in Dana Point.  Clay was my therapist, he is excellent! Everyone there are friendly and very helpful.
Thank you all for everything.
Margie Job
Dana Point, CA
The impact Rausch has made on my knee health over the past year has genuinely been a game changer. Kevin C has not only helped me through multiple injuries, but he always answers all my annoying questions with equally annoying enthusiasm. You go Kevin, thanks for all you do!
Stephanie M.
Foothill Ranch, CA
Really love this office. I drive by at least 10 other physical therapy offices.
They do a great job! I especially recommend Kenneday (a pt aide). She is WAY more than an "aide". She does a great job keeping an eye on her patients to ensure they are doing all of their exercises correctly and that they remember all of the exercises.
She is a great part of my recovery and extremely professional and a nice person too!
Recommend this place for your pt needs.
Judy W.
Rancho Santa Margarita, CA
This is the best most thorough physical therapy I have ever been to and there's been a few.  Ruth is my physical therapist and she makes you feel comfortable and is very knowledgeable and good at her job.  In 5 months I am almost all healed from my L4L5 fusion back surgery.  Everyone there is so nice and helpful.
Lana L.
Laguna Niguel, CA
Just had the most amazing massage from Melissa! I've been experiencing neck pain and stiffness for several months and none of the massage therapists I've worked with at other massage clinics have been able to get the knots out. Well Melissa did and I feel like I have a new neck! Thank you for your help!
I highly recommend Renee as a massage therapist. She understands health in all totality both body and mind. She knows and supplies a great massage each time and fosters a feeling of trust and safety. Beautiful hearted as well as talented employee. Great facility.
Sheryl W.
Mission Viejo, CA
The best PTs. The best gym. The best people come here to get better. I get better when I follow the rules and do what she says. When I don't, I get hurt again. It's the way it goes I guess. I highly recommend this place to anyone who needs some PT.
I've been receiving physical therapy for a month now on my (once frozen) shoulder and have enjoyed every minute of it. The staff is superb and the prescribed regimens are extremely effective. My go to PT is Rebecca. She is the bomb– amazing talent, great personality, & genuinely caring. Her assistant, Christina is also fantastic. After a few visits, I've progressed tremendously and now have full motion in my shoulder. Am so grateful to the Rausch team…highly recommend!
I went from waking up every morning in excruciating shoulder pain after hurting myself weight lifting. Thanks to Jonathan – I'm glad to say that I'm able to live a pain-free life and do the activities I love. I can't thank Jonathan and the rest of the team enough – their knowledge, compassion, and enthusiasm really put them over the top. After multiple visits to orthopedic physicians, multiple scans, and other physical therapists, I was scared I was going to be left to live a life with one shoulder and lots of pain. Again, I can't thank the team here enough. Thank you!
Rausch Physical Therapy was highly recommended to me by my long time physical therapist in Ventura County. I began care with Jonathan at the Rausch Laguna Niguel location and now see him at their Dana Point studio. Happily, I can report I have found the care at Rausch to be superior and highly recommend Jonathan for his expertise and caring. I have chronic muscle weakness due to my MS but after each session I walk out feeling stronger. Even with Covid protocols in place, I continue to feel comfortable receiving care at Rausch.
Julie G.
Agoura Hills, CA