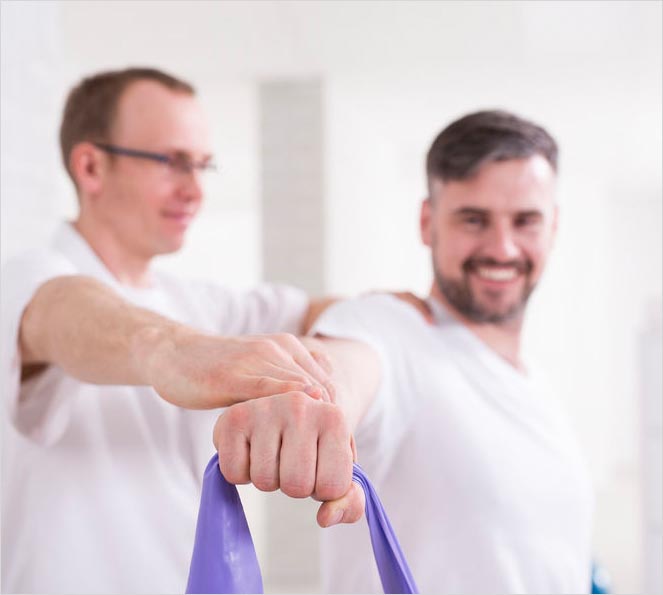 Choosing Pack Physical Therapy
Physical therapy is one of the best healthcare choices you can make. It's a safe, affordable and effective way to manage your pain while providing you with long-lasting health benefits.
Why Our Treatment Works
Our physical therapists are experts in motion. Our clinicians undergo advanced training and pursue certifications, which give them the experience and education to provide you with the highest standard of care. You can be confident that their assessment and recommended treatment will help you recover, protect against future injury and allow you to reach your health goals.
Another great reason to choose our physical therapy is to avoid procedures like surgery or extensive imaging tests — including X-rays, MRIs and CT scans. This can save you money throughout your treatment.
A 2015 study proved initial treatment costs were 50% lower when patients were referred to physical therapy instead of an advanced imaging referral from their primary care consultation. These savings do add up. Over time, using physical therapy first resulted in 72% lower costs within the first year of a patient seeking care.
Your Personalized Treatment Plan
Our experts listen, set goals and create a treatment plan centered around your specific injury or pain to optimize your health. We remain focused on your progress — from your first appointment until your treatment ends. But don't just take our word for it – our patients regularly recommend us to their family and friends.
We also leverage data and the latest techniques to create effective and efficient treatment options. We offer a wide range of specialized services to relieve your symptoms.
Pain management and rehabilitation
Education about your specific condition and how to minimize the risk of future injury
Exercises to improve range of motion and flexibility
Exercises to strengthen muscles and to improve coordination, balance, and endurance
A customized home exercise program
Lower healthcare costs than other treatment options, like surgery, imaging tests or medication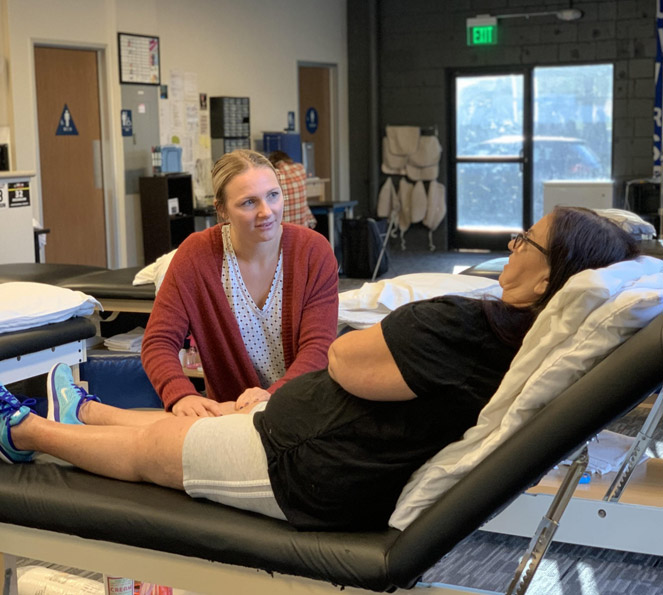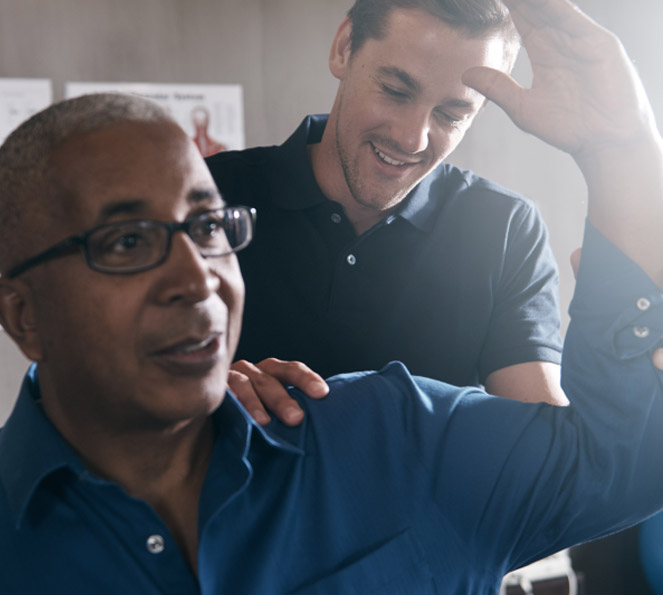 You'll Find Relief With Physical Therapy
Our physical therapists are trained to treat a variety of conditions, including:
Acute and chronic pain
Arthritis pain
Ankle and foot injuries
Back and neck pain
Dizziness and balance deficits
Hand trauma and upper extremity injuries
Hip and knee injuries
Joint replacement
Leg injuries and knee pain
Muscle strains and sprains
Orthopedic injuries
Overuse injuries
Personal and auto injuries
Pain related to women's health and pregnancy
Pre- and post-surgical conditions
Repetitive stress injuries
Shoulder and elbow injuries
Sports and performance injuries
Work-related injuries
If you don't see your condition, that doesn't mean we don't treat it!
Scheduling an appointment is easy, convenient and flexible.
We'll schedule you fast, sometimes the same or next day, but always within 24 to 48 hours of requesting your first appointment.
Rausch teams in action & success stories!
Serving Orange County
At Rausch PT, everyone from our friendly front office staff to our dedicated aides is here to cheer you on and help you achieve your goals. We strive to give you the best experience possible every time you come see us, which is why your personal Rausch physical therapists will be by your side throughout your entire treatment.
Testimonials
Of all of the physical therapy clinics I have been to over the years, Rausch Physical Therapy is by far the best. I have been receiving treatment here for a few months now under the care of Dr. Reggie Pamintuan and can confidently say that he is the best physical therapists I have ever had. His combination of creating a unique approach to treatment for each and every one of his patients along with his openness to try new techniques and recovery tools to offer the best possible care sets him aside from all the rest. He treats every patient with amazing attention to detail and creates a recovery regimen specific to that person to offer the best positive results and fastest recovery possible. He along with all the other physical therapists and staff at Rausch Physical Therapy apply this same ideology to offer patients the best possible treatment instead of cookie-cutter workout and stretch routines that don't help unique people with unique circumstances. I can't say enough good things about this clinic as they have been able to offer me positive recovery results where so many other physical therapy clinics have failed. I would 100% recommend booking an appointment with Dr. Reggie or any of the other physical therapists if you are looking for a unique recovery treatment built and tailored specifically for you.
I have nothing but praise for Dr. Marissa Dannaway. After months of discomfort and frustration, I was diagnosed with Pelvic Floor issues and referred to Rausch PT. Internal Therapy can be awkward and uncomfortable, but Marissa's abilities as a doctor are outstanding. Dr. Marissa is very intelligent, attentive, and professional. She is a gifted communicator and will genuinely listen to your concerns. I had resigned myself to the fact that my condition would be something I would live with the rest of my life; but after a couple months working with Dr. Marissa, my condition has greatly improved along with my quality of life.
In short, if you're having Pelvic Floor issues, I highly recommend Dr. Marissa as she can provide you success and has expert bedside manner. Be sure you listen to her and follow through with her program.
I'm so grateful that my OBGYN referred me here. After having a baby and a traumatic birth experience, my pelvic floor was too tight to resume normal activities. It caused me a lot of pain and anxiety and I feared my marriage would suffer, even though my husband was supportive and understanding. I'm thrilled to say that after about two months of internal therapy with Marena, the pain is gone and I finally feel like myself again.
Marena has a great bedside manor and makes you feel very comfortable and relaxed during the sessions. I'm forever grateful for her!
Aliso Viejo, CA
Nichole C.
Jennifer Carman PT – is a brilliant therapist who knows her trade through and through but can think out of the box at a drop of a hat. She has helped both of my parents (age early 80s) through some rough rehab, always with a smile on her face. And she has always put a smile on their faces which is immeasurably important. Her years of experience, her wonderful attitude, and her all around brilliance makes it easy to write this review.
And everyone at the office is cut from the same cloth as Jennifer! A total pleasure!
Sincerely,
The Choksey's
Los Angeles, CA
Rachel m.
I've just completed my prescribed sessions with Rausch Physical Therapy in Dana Point. I can't say enough about the excellent care I received. Dr Ruth was my lead therapist. She prescribed a protocol that took me from barely able to raise my arm due to a torn rotator cuff to, as of today, swimming free style with no pain. By the way I was on track for surgery which seems to no longer be necessary. Many thanks to Dr Ruth and all of the staff who worked so diligently with a lot of kindness care.
Lake Forest, CA
Mary Jane H.
Rausch PT the best of the best.
Milena is priceless and the team knows their stuff. They give you one on one attention. For a year I suffered with a torn Miniscus and floating cartilage which caused severe pain. I had surgery but had been dragging that leg for a year. I needed to learn how to walk and find my balance again. With a combination of specific stretches and balance techniques I am now walking normally and am pain free. There are no words to ever convey the gratitude I feel from the healing energy I got from everyone at Rausch. As happy as I am I finished PT I am sad to leave this healing place.
So thank you all for giving me back my mobility and my quality of life.
I have nothing but positive things to say about Rausch PT. Dr. Kristen is the best and truly listens to what your problem area may be and helps you back to recovery.
I'm impressed with Rausch! I see Dr. Camery Cano, and she is excellent! She really knows what she is doing and has been helping so much! She is also lovely to work with. She is friendly, kind and really cares about the people she works with. This is the best physical therapy experience I've ever had!
Laguna Beach, CA
Celeste D.
Dr. Rebecca has changed my life. I was suffering with horrible sciatica, hip and pelvic pain for 2 years. After 1 session with her and now a couple of weeks later, I have been pain free. I can sleep!
She is also very kind, gentle, and sweet. Amazing lady.
Redondo Beach, CA
Victoria J.
Best place to go for physical therapy, in Dana Point.  Clay was my therapist, he is excellent! Everyone there are friendly and very helpful.
Thank you all for everything.
Margie Job
Dana Point, CA