Client Spotlight: Samantha Gugliuzza
April 24, 2017 10:21 pm / Category: Client Spotlight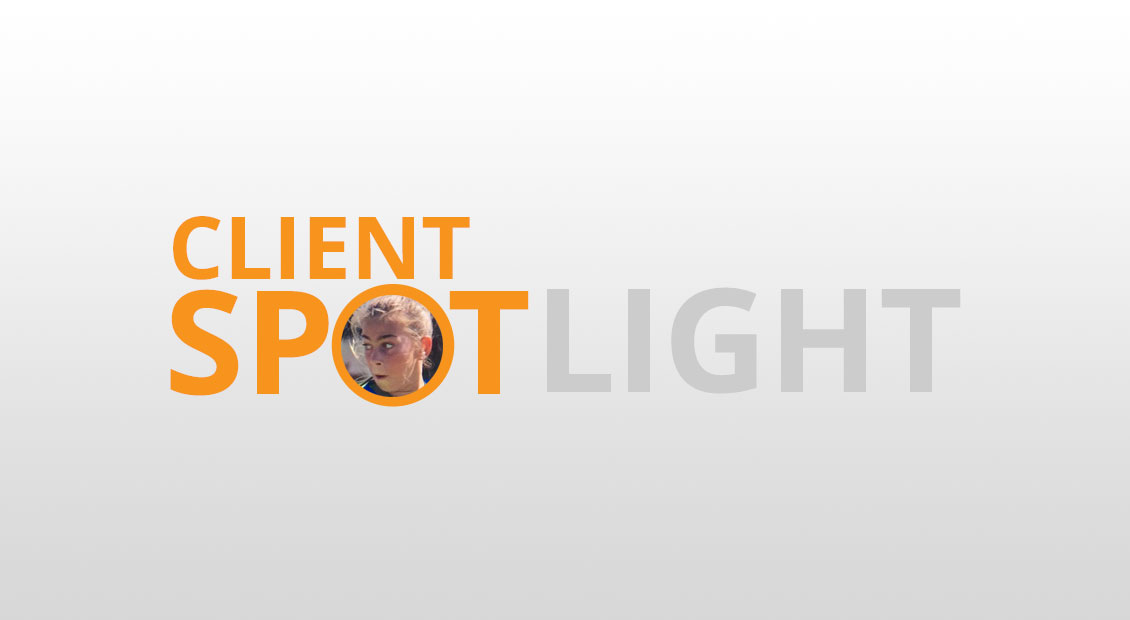 At just 12 years old, Samantha Gugliuzza is our youngest Client Spotlight to date. Sam is a serious soccer player with some big dreams, and Rausch PT will help get her there.
At Rausch Physical Therapy & Sports Performance, our goal is to not only help our patients get back to doing what they love, but to also help educate them on how to avoid future injuries so they can continue to do what they love for many years to come. Samantha Gugliuzza is the perfect example of this. Sam has been playing soccer since she was three, and she is currently in her seventh season playing with the acclaimed So Cal Blues Soccer Club. However, after developing Osgood-Schlatter disease, a childhood overuse injury that causes a painful lump below the kneecap, 12-year-old Sam was in dire need of physical therapy in order to continue playing the sport she loves.
Sam has been a patient at Rausch PT for more than a year now, and she says PT has not only helped her control the pain, but it has also taught her how to avoid future potentially-sidelining injuries.
"I believe that more young soccer players should come to physical therapy," Sam said. "The physical therapists at Rausch PT can help you with any pain you may be having, but more importantly they help you to prevent future injuries by learning the proper way to warm up, cool down, stretch and work on your form to help you train and play smarter."
Sam was paired up with DPT Lyndsay DeFilippo, "the Soccer PT" and a former soccer player herself. Together, Sam and Lyndsay have been working to gain strength and stability so Sam can continue to work toward her athletic goals while dealing with Osgood-Schlatter's.
"As Lyndsay is a former soccer player, she understands the challenges and physical demands of the sport," Sam said. "She has helped me physically and mentally by structuring a program to build strength in the areas of my body where I need it the most. My strength and stability have definitely increased (for example arch strength, hip strength.) Lyndsay's words are always in my head reminding me to do a proper warm-up, to have proper form when striking a ball, and most importantly stretching after practice and games."
It was actually Sam's mom, Alex, who first discovered Rausch PT. Upon a friend's recommendation, Alex came to PT while training for her first marathon. Alex says she went from not being able to run four miles without knee pain to running 26.2 pain-free.
"With the help of everyone at Rausch PT I was able to accomplish a goal I did not think was possible (running my first marathon in under four hours,) Alex said. "So I love that I can drop Sam off for physical therapy knowing she is in very capable hands. Over the years I have come to know almost all of the physical therapists and aides there, and it is such an energetic and inviting place to come. I trust them with not only myself, but my daughter as well."
With the continued support of her family (and Rausch PT-family,) we know anything is possible for this soon-to-be teenage soccer star! Now that Sam is managing her knee pain and has incorporated a recovery program into her training, she is set up for soccer success in the future.
"My goal for soccer is to continue to play at a very high-level and intensity. My team will be playing in the Elite Clubs National League (ECNL) this year, which we are excited about. I also hope to play in high school (while achieving a high level of academics at the same time,) and I hope to eventually play at the college level."
Good luck to Sam, and remember Rausch PT will always be here to help Get You There!