Physical Therapist
Job description
Are you a California-licensed physical therapist who likes to build relationships with your patients and make a change in their lives? Looking for an innovative physical therapy clinic in Orange County, CA to grow with? Then let us introduce ourselves. We are Rausch Physical Therapy, but we are NOT your average physical therapy practice.
Rausch PT is a progressive, physical therapist-owned rehab and wellness center in our two South Orange County locations that's changing the way people think about physical therapy (and healthcare in general!) Our passionate and FUN team of young professionals help active people from 8 to 80 years old get back to doing what they love post-op or injury. More importantly, we help keep people healthy for life with our focus on holistic treatment programs, training and preventative care.
We've assembled a team of the best and brightest individuals possible, and we are currently looking for a full-time physical therapist to add to that team.
Why You Should Work For Us
Very competitive compensation package + Bonus system based on performance

Wellness prescription referral bonus

New Grad/Hire Mentorship Program

Professional Leadership Mentorship Program

Community events and engagement

Medical and retirement benefits; Paid Time-Off

Amazing, close-knit culture; team-oriented environment; casual atmosphere

Awesome Perks, Free massages/fitness opportunities; Company beach days)
Responsibilities and Duties
Full-Time Physical Therapist

Focus: Manual Therapy; Soft Tissue Mobilization; Sport-Specific Rehab

Clientele: Highly active; Mix of post-surgical, sports, and orthopedic patients; Mainly "Direct Access" patients

Exceptional Manual Therapy and Soft Tissue Mobilization skills

Solid examination and assessment skills for a "Direct Access" setting

Ability to create specific therapeutic exercise programs for each and every patient
Qualifications and Skills
We are looking for a caring, enthusiastic applicant who wants to be a game changer in the field of physical therapy, wants to learn, and LOVES to interact with and help people.
CA-Licensed Physical Therapist

New grads welcome! (New Hire Mentorship Program sets you up for success)

Excellent communication skills; Confidence is key

Self-starter and creative with a therapeutic plan of care

Ability to work well with a close-knit team

Being active in sports/outdoor lifestyle is a plus
Company History
At Rausch Physical Therapy, we strive to be innovators in the fields of physical therapy, healthcare, and wellness. We are in our 17th year of practice and have grown as the leaders in physical therapy care with a creative fun approach to providing expert value for our patients and staff. We have grown to three locations in South Orange County.
Work Remotely
Job Types: Full-time, Part-time
Salary: $80,000.00 – $110,000.00 per year
Benefits:
401(k)

401(k) matching

Continuing education credits

Dental Insurance

Flexible schedule

Health insurance

License reimbursement

Life insurance

Opportunities for advancement

Paid time off

Referral program

Retirement plan

Vision insurance
Medical specialties:
Orthopedics

Physical & Rehabilitation Medicine
Schedule:
Education:
License/Certification:
CPR Certification (Preferred)

Physical Therapy License (Required)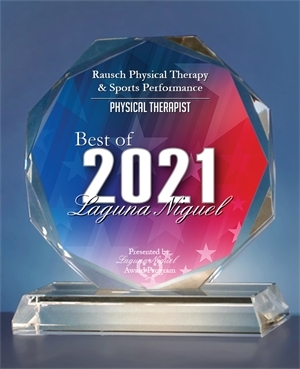 Laguna Niguel
Dana Point
Are you a California-licensed physical therapist who likes to build relationships with your patients and make a change in their lives? Looking for an innovative physical therapy clinic in Orange County, CA to grow with? Then let us introduce ourselves.
We are Rausch Physical Therapy, but we are NOT the average physical therapy practice. We specialize in taking our patients from injury to recovery and peak performance.
Join our team as a full-time physical therapist!
We offer competitive pay with unique bonus incentives to complement your recognition of patients' total body wellness.
Apply Now!