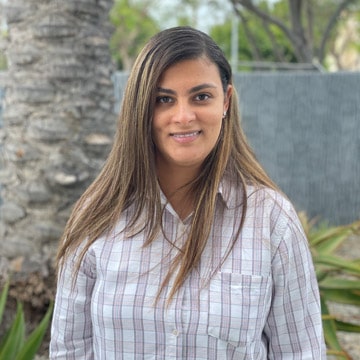 Dr. Marena B. N.
PT, DPT
Bachelor of Science Degree, Health Science, California State University Fullerton
Doctor of Physical Therapy, Loma Linda University
Specialties: Orthopedic impairments, pelvic health dysfunction
Get to Know Dr. Marena
Dr. Marena's passion for physical therapy grew from her interest in human anatomy and wanting to help people improve their mobility. She graduated from Cal State Fullerton with a Bachelor's in Health Science and  Loma Linda University with a Doctorate in Physical Therapy.  We are so excited to have her join our team at SOCPT with her specialties including orthopedic impairments, pelvic health dysfunction
Marena strives to leverage her skills, knowledge and experience in effort to see patient's health improve with every visit. Her top priority is seeing her patients satisfied and living with optimal level of function. Marena values getting to know her patients and working closely with them to ensure they're getting the proper treatment.
In her free time, Marena enjoys the outdoors, swimming and warm weather. Her personal interests include vacationing at tropical destinations, riding bikes, and spending time with family and friends.