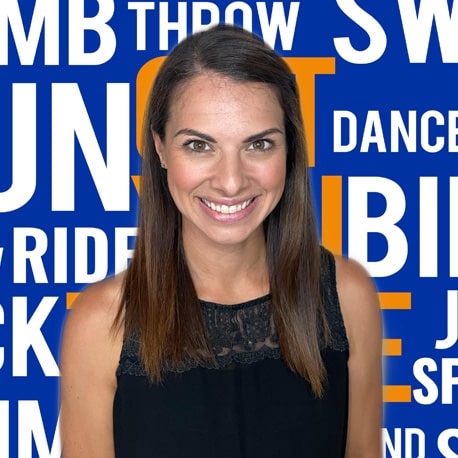 Dr. Ruth M.
PT, DPT, OCS
Specialties
Volleyball, Gymnastics, Running PT
Prenatal & Postnatal Spinal / SI Joint Disorders
Postnatal Return-to-Fitness & Running
Bilingual English / Spanish Speaking
Work Experience

Physical Therapist, Rausch Physical Therapy (2018)
Coury and Buehler Physical Therapy (2013-2018)
State of the Art Physical Therapy (2012-2013)
Get to Know
Meltzer
Throughout my life, I found myself getting involved with a lot of sports. I grew up in Pasco, WA, and enjoyed all four seasons Washington offered, which varied from catching the fresh powder on my snowboard to swimming, boating, and biking in the summers. I played most sports year round, but my biggest passion, time and energy went into gymnastics and volleyball. I moved down to CA in 2009 for schooling at Loma Linda University where I graduated with my Doctorate in physical therapy in 2012 and then shortly after in 2015 became an Orthopedic Certified Specialist. I strive to do the best in all I do either at home or at work. I have two amazing kids that I love spending time with. My passion is to help other moms get the treatment they deserve and need in order for them to be the best person they can be. I also love treating V-ball players and gymnasts because I can relate to the difficulty and dedication it takes for those sports, and I want to help people keep doing what they love.
I was already on the path of becoming a physical therapist when I injured my shoulder playing softball at Walla Walla University. Unfortunately, I did not receive the individualized care my shoulder needed, which has motivated and sparked me to be the best PT I can be for my patients. The manual therapy and therapeutic exercises I provide for my patients are all very specific to that individual to get them back doing what they love to do. I enjoy looking at functional movements and tailoring exercise programs to help you as a whole individual, not just a body part. I am also fluent in Spanish, which allows me to even further assist our community. Outside of the clinic, I enjoy spending time with my husband and two children outdoors either hiking, going to the beach or participating in local 5k or 10k races, or catching a baseball game.
Education
Doctorate in Physical Therapy
Loma Linda University
Loma Linda, CA (2012)
Orthopedic Certified Specialty (2014)
Bachelors in Health Science
Walla Walla University
College Place, WA (2012)